2018 Chairman's Video Submission
Thanks to our Chairman's team, 2018 is the first year we have completed the Chairman's submission. This is the most prestigious award in FIRST and we are so proud to be able to submit the student created video and essay. The team put in many hours during the season to film, edit, and modify the video. We are so proud at the constructive criticism they took to continue to make it better.

This is historical.

​This Is How We Robot.



Summer Project 2015 - Heavy Metal v2.0

FIRST Robotics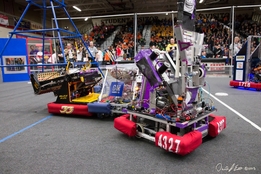 For the Inspiration and Recognition of Science and Technology, FIRST seeks to connect young engineers with working professionals through the vehicle of an annual athletic style robotics competition. For over 20 years FIRST founders Dean Kamen and Woodie Flowers have been coming up with original games or challenges for teams across the world. The work of FIRST developed millions of dollars in scholarship opportunities, developed interested in science and math which otherwise would not be present and connected countless inspiring professional engineers with eager youth seeking to learn.
---
Team 4327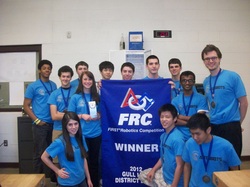 In December of 2011, Mr. John Burdette, science teacher at Lakeview High School, found a program which could satisfy the need of introducing students to engineering prior to leaving for university. During its first season of 2012, Team 4327 was known as "The Autobots" by student suggestion. In its rookie season, the team won their very first District competition at Gull Lake.
---
Q Branch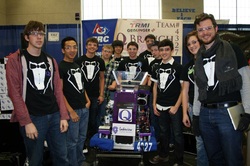 Following the initial success of their first season, Team 4327 changed their name to fit more of their overarching character. By student suggestion, in December 2012, the team changed its name to "Q Branch". This moniker is a reference to the Sir Ian Flemming novels about the adventurous British agent James Bond and his quartermaster, Q. Throughout the novels and films, Q always stood as the source of all of Bond's neat gadgets utilized in his missions. The sector of MI:6 to which Q belongs is known as Q Branch.
---
Annual Challenge and Season Schedule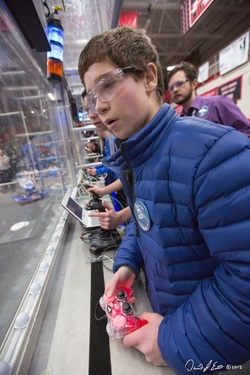 FIRST unveils the annual challenge or game every January. Until then the purpose of the season is kept under lock and key by the game design committee. Following the first Saturday in January, teams have roughly six weeks in which to understand the challenge, design and construct a working solution (robot). On "Stop Build Day" in February, teams must seal their machines in large plastic bags and cannot work on the project again until the week leading up to competition.

Each year, Q Branch participates in our "Home Event" at Gull Lake High School in Richland, Michigan as well as one other event site around the state. All competitions are open and free to the public. Your support is greatly encouraged!

Since teams have an open six weeks for building the robot, the schedule is unique to the program. Q Branch meets in January and February during the build season Monday through Thursday from 5:00 pm until 8:00 pm and Saturdays from 8:00 am until 4:00 pm. During the fall season, to prepare for the upcoming competition we meet regularly on Thursdays from 3:00 pm until 3:30 pm.


---
Riverside FLL Jr. Team 8560 & 12233
Westlake Elementary School FLL Jr. Team 5280, The Westlakers
Lakeview Middle School FTC Team 7792, The Nindroids!
http://nindroids.net/