Q Branch Coaches
Founder and Head Coach John Burdette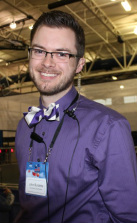 John Burdette is a physical science and physics teacher at the Battle Creek Area Math and Science Center. Founding the group in December of 2011, John was looking for a way to fill the gap of future engineering students prior to college. He serves as the jack of all trades for the group. During the competitions, he can be found as the driver coach.

Outside of Q Branch, John can be found spending time with his wife, Amanda, without whom this would not be possible. He has two dogs: Fermi and Cuddy who keep him very busy when the robotics season does not. A college football enthusiast, his favorite season is Fall when he can watch the CMU Chippewas take the field!
---
Assistant Coach Lindsey Keller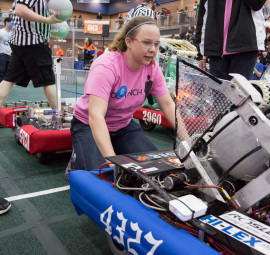 Lindsey Keller is joining Q Branch for the 2014 season. She is a biology teacher at the Battle Creek Area Math And Science Center. While attending the 2013 Gull Lake District Competition with her two kids, Rylee and Parker, and husband Jason she was hooked! She serves as the leadership with the Chariman's team and coaches the drive team.

When not helping Q Branch, Lindsey spends time with her two kids and is an active foster parent for several area dog rescues. Ask her some time about how much she loves dogs!
---
Mentors/ Past Mentors
Mentor Scott McKinney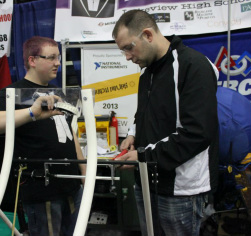 Scott McKinney joined Q Branch as a mentor during the 2013 Ultimate Ascent! season. He brings to the group a wealth of knowledge about design, construction and quick fixes. His work experience helps the students of Q Branch understand how professional engineers think on their feet and apply knowledge for working solutions.

Beyond robotics, Scott is an avid motorcycle enthusiast. "Grow team, grow!"
---
Former Mentor Matt Ames


Former mentor, Matt Ames, is currently a student through Arizona State University and living in Mt. Pleasant, Michigan. Most of the time Matt mentors the team through Skype during our build sessions as he leads the programming side of Q Branch. He is a former mechanic, tuba player and member of the CMU marching band (this is how he knows the head coach). He is a master of the culinary arts and spent several years living in the Rocky Mountains of Colorado.
---
Mentor Gary Held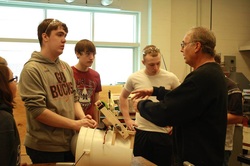 Mentor Gary Held works in mold engineering for DENSO. He brings a wealth of design engineering background to the team! He is constantly helping out the students with mechanics and sharing his ideas with other members of the team and encouraging the students to put in as many ideas as possible, helping them develop their own designing skills.
---
Former Mentor Gary McNees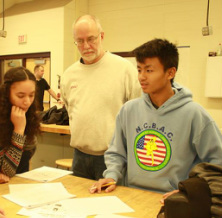 Mentor Gary McNees comes to us from DENSO. He serves as the adviser to the team in preparing students to speak with judges, businesses, and other public figure roles. He is always helping out in places he is need. Need mechanics and business work done he is your man. His wise knowledge helps prepare the team to get ready with up coming events.
---
Former Mentor Nels Multer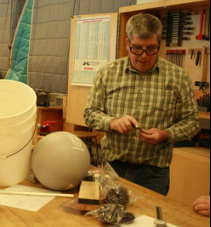 Former mentor, Nels Multer, joined Q Branch for the 2013 Ultimate Ascent! season. Working for Battle Creek manufacturer Geislinger as a mechanical engineer, Nels brought a broad spectrum of experience to the team. His knowledge of manufacturing helped the team work through many prototype struggles when working from concept to working solution.
---
Mentor Rich Juvancic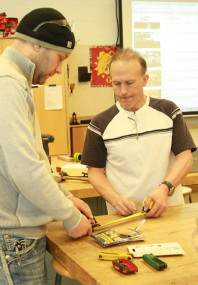 Mentor Rich Juvancic is a parent of a former member of team 4327. Working as an anesthesiologist, he is always eager to tinker with various mechanical wonders of robotics! He is well experienced with robotics and FIRST because his son Richie, was apart of the team. His experience and knowledge helps drive the team forward.
---
Former Mentor Zack Murray
Former mentor, Zack Murray, comes to Q Branch as a CAD specialist from Rosler metal finishing in Battle Creek. He guided the CAD team in the early stages of the build season by teaching the many new members the skills they needed for a successful season. He has helped us in the mechanics portion of building once CAD was needed much less.
---
Mentor Bernhard Kerschbaum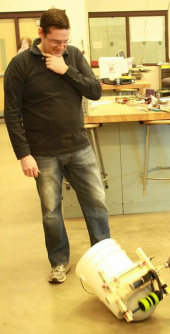 Mentor Bernie (as he is known) is a parent of a current member of team 4327 as well as CEO of Rosler metal finishing in Battle Creek. This season, 2016-2017, is his first year with the team and is the current CAD mentor. Whenever he is in the area, he lends his wealth of knowledge to the team in all facets.
---
Mr. Byrne, Mr. Smith, and Mr. O'Connor


This trio of all-stars makes up the technology and manufacturing department at Lakeview High School. Throughout the robotics season, these three talented men help students with design, CAD, and the marketing aspects of FIRST robotics. It is very helpful to have them here because the students can help put in more work by using the machinery they normally couldn't use.

---
Former Mentor Rebecca Haferkamp (2012-2013)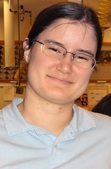 Former mentor, Rebecca Haferkamp, joined Team 4327 in its infancy during the Rebound Rumble season of 2012 and helped through the 2013 season as well. She worked as a production engineer for Battle Creek manufacturer DENSO. Her experience as an engineer helped students bring conceptual designs to practical blueprints and finally to fruition in the machine.
---